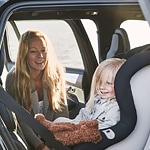 When shopping for a new vehicle, there is a lot to keep in mind. This is especially true if you need a new car for your family. One thing that you should keep in mind is the LATCH system of a vehicle. It gets evaluated on a scale of "Poor" to "Good," and the team at Kokomo Auto World can tell you more.
What, exactly, is LATCH? Well, it stands for Lower Anchors and Tethers for Children, and it is the system designed for easily installing a car seat properly. Some vehicles manage this better than others, naturally, which is where the ratings come into play.
LATCH ratings are not a reflection of how well your child will be protected in a crash, but rather how easy it is to install the seat properly. Since a properly-installed car seat will protect your child more effectively, LATCH evaluations still matter.